DEVELOPMENTAL PROGRAMS
Associated Artist Program gives passionate, talented and driven artists the chance to participate in the life of the company. This program strengthens and builds the LIA community, and enables the developmental work of the company and our individual artists.
First Look Project beginning playwrights are given the rare opportunity to have an early draft performed and directed by established theater profesionals. A staged reading of promising new work is followed by exploration and discussion with directors and playwrights from the field, serving as Guest Dramaturgs.
Living Image Films an interdisciplinary program in which theater and film artists work collaboratively to conceive, create and produce films, often in conjuction with an upcoming stage play.
Living Vision Initiative an outreach program created to identify and address the needs of the NYC theater community and our audience. Go to our Living Vision page to take part!
Multi-Media Art Event a cross-disciplinary event to raise awareness of LIA, promote upcoming productions, introduce artists' work to a wider audience and facilitate a dialogue between artists of different media. The public is invited to meet the artists from past and upcoming shows.
New Works Developmental Program is designed to help playwrights create and refine new work, culminating in staged readings, workshops and productions. The development process can last 1 month to a year and includes in-house and workshop readings, dramaturgical meetings with established writers, directors and other professionals.
New Works Staged Reading Series publicly performed readings of dramatic work in process, produced throughout the season, individually or in concert with one of our MainStage productions.
TheaterLAB a bi-weekly laboratory for writers, actors, directors, designers and other artists to create and share new work, practice their craft and share resources.
Working Retreat helps build community and support the artistic growth of our Associated Artists. 07 -08's retreat took place in beautiful Newfane, Vermont and focused on the development of new writing and upcoming productions. Associated Artists and members of the TheaterLAB are invited to take part in this weekend to week-long escape from the urban pace of New York City.
Workshop Productions a bare bones public showcase of new works-in-progress. Playwrights work with a director and actors while rewriting; developing the script as they rehearse and introducing the play to an audience in performance.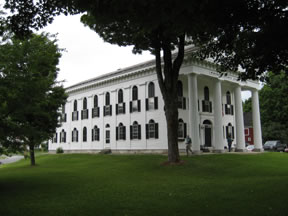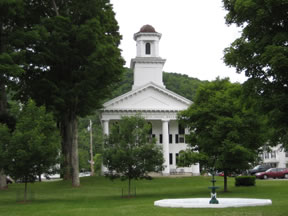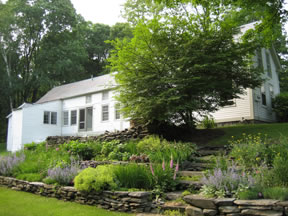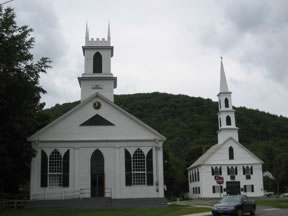 Newfane, Vermount
Site of LIA's 07 - 08 Working Retreat